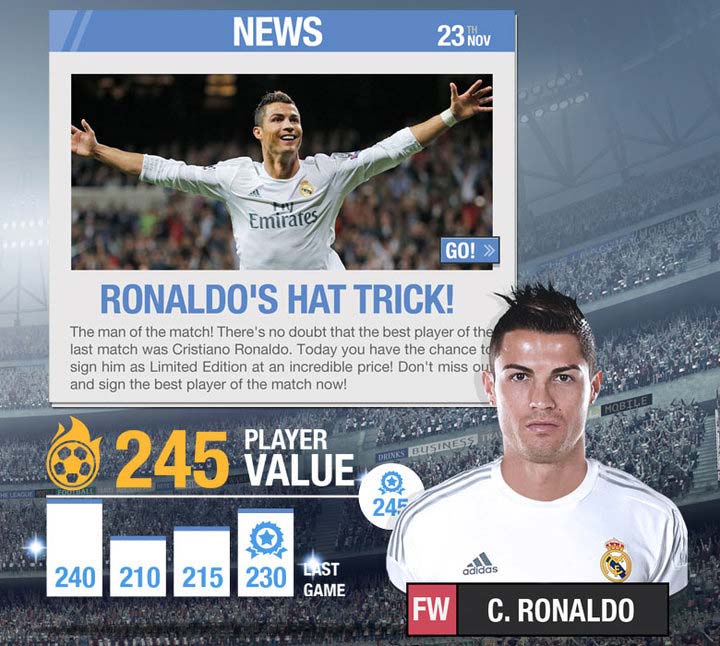 MANAGE GAME BY GAME AND BEAT YOUR OPPONENTS
An on-time change can be vital when it comes to the final result. Managing your players isn't always easy, but great management will bring you success for sure.
SIGN THE BEST PLAYERS IN THE WORLD AND BE VICTORIOUS IN THE LEAGUE
Managing a team of star players is complicated. Who will play and who will be left on the bench? Only a good coach can know how to reply to hard decisions. Are you ready?
DO YOU WANT TO WIN? STRENGTHEN YOUR PLAYERS' SKILLS
Signing players isn't always enough. They could always improve, but those of your opponents, as well. You'll need to work very hard so that they don't top you. Increase your team value and win more games than ever.
.
COMPETE IN TOURNAMENTS AROUND THE WORLD AND PLAY WITH YOUR FRIENDS
Play in tournaments, invite your friends to play and show who, out of everyone, is the one who knows more about football. Your knowledge about football will be reflected in each game.
Enjoy Fantasy Manager with your favourite team. Choose one: